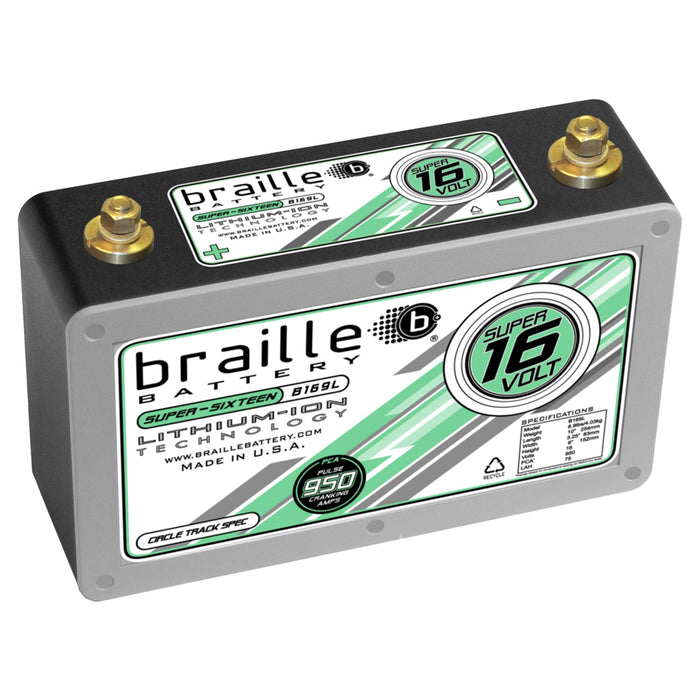 Braille B169L Super 16V Circle Track Lithium Battery
Our Braille B169L 'Circle Track Spec' lithium battery weighs just 9 pounds and designed specifically for the circle track market. It will start a small block V8 and run the ignition and gauges over the entire night of racing on a single charge. It can be recharged using our 6 Amp 16 volt lithium charger, from 25% to full in about 3 hours.
NOTE: This battery is not designed or intended for use in drag racing applications with large, high compression motors, high draw rates from pumps, fans, solenoids, etc. It has less than half the cranking power of the Drag Race Spec B168L that is the ultimate 16 volt lithium upgrade for Drag cars!!
Braille's exclusive 16 volt Lithium technology offers more starting performance and stable voltages per pound than any option available on the market. Sealed Safe Design in popular sizes that are mountable in any position contain Ultra-Lightweight Lithium-Ion Chemistries Hand Selected and Built by a Braille Factory Technician in the USA. High Current Interconnects, Proprietary Sine-Wave Balancing and High Amp Brass Terminals are just some of the Exotic Technologies for Professionals and Enthusiast that Demand the Best.
* Marine Sealing is available and required for batteries used in marine or other applications where unit may be exposed to water directly (light mist or spray), as lithium batteries are not intended to be exposed to any water unless marine sealed, which makes the more water resistance, but not 'waterproof' (additional cost, varies by lithium model).
** PbEq equals Lead-Acid Equivalent also known as LAh Lithium-Amp-hours. This means that a 72 LAh PbEq (24Ah) Lithium Iron Phosphate battery could perform the same near as a 72 Ah Lead-acid battery under a high rate discharge in comparison.
   Physical Specs
| | | | |
| --- | --- | --- | --- |
| BCI Group | 169 | Width | 3.15" / 83mm |
| | | | |
| --- | --- | --- | --- |
| Weight | 8.9lbs / 4.04kg | Height | 6.15" / 156mm |
| | | | |
| --- | --- | --- | --- |
| Length | 10" / 254mm | Polarity | Left Side Positive |
   Performance Specs
| | | | |
| --- | --- | --- | --- |
| Voltage | 16 | Full Voltage Charge | 18-18.2 |
| | | | |
| --- | --- | --- | --- |
| Pulse Cranking Amps (PCA) | 950 | Amp hour (Ah) | 25 |
| | | | |
| --- | --- | --- | --- |
| Lithium Amp Hour/Lead-Acid Equivalent | 75 | Life Cycle @ 10% DOD | 5000 |