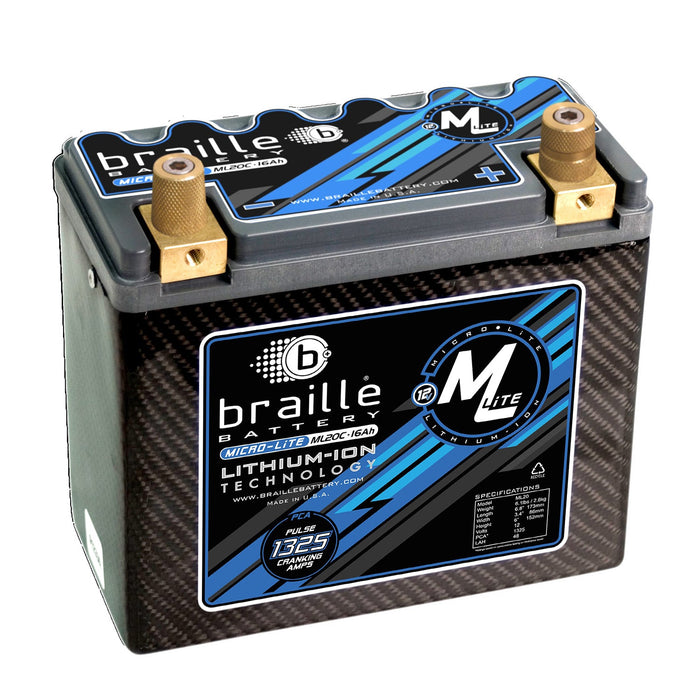 Braille ML20C MicroLite Lithium Battery
Our Braille ML20C MicroLite lithium battery weighs in at just 6 pounds and is packed with Braille's signature cranking power and is over 50% lighter. The ML20C is a Daytona 500 winning battery in NASCAR, the spec battery in the Dallara IL15 Indy Lights cars, used by championship cars in Formula Atlantic, USF2000 and Pro Mazda, along with drag boats, drag cars and other top racing vehicles.
Braille Lithium delivers a higher, cleaner voltage which improves the performance of every electrical component and has shown to provide:
Quicker starting, with a full volt higher than lead batteries
Less voltage drop during cranking
Improved engine management & data logging performance (stable voltage)
5x more efficient charging than lead, less alternator horsepower draw
Lasts 3-5 times longer, especially under the harshest environments
Much more reliable, with the lowest failure rates on the market
Significant weight savings, often only 1/4 the weight of lead
Don't self-discharge, a disconnected battery holds 13v for over a year
Braille lithium race batteries are used by more professional race teams, car builders and race series globally, than any other lithium battery on the market!!
   Physical Specs
| | | | |
| --- | --- | --- | --- |
| BCI Group | 20 | Width | 3.5" / 89mm |
| | | | |
| --- | --- | --- | --- |
| Weight | 6.1lbs / 2.8kg | Height | 6.2" / 157mm |
| | | | |
| --- | --- | --- | --- |
| Length | 7" / 179mm | Polarity | Right Side Positive |
   Performance Specs
| | | | |
| --- | --- | --- | --- |
| Voltage | 12 | Full Voltage Charge | 13.8 |
| | | | |
| --- | --- | --- | --- |
| Pulse Cranking Amps (PCA) | 1325 | Amp hour (Ah) | 16 |
| | | | |
| --- | --- | --- | --- |
| Lithium Amp hour/Lead-Acid Equivalent | 48 | Life Cycle @ 10% DOD | 5000 |