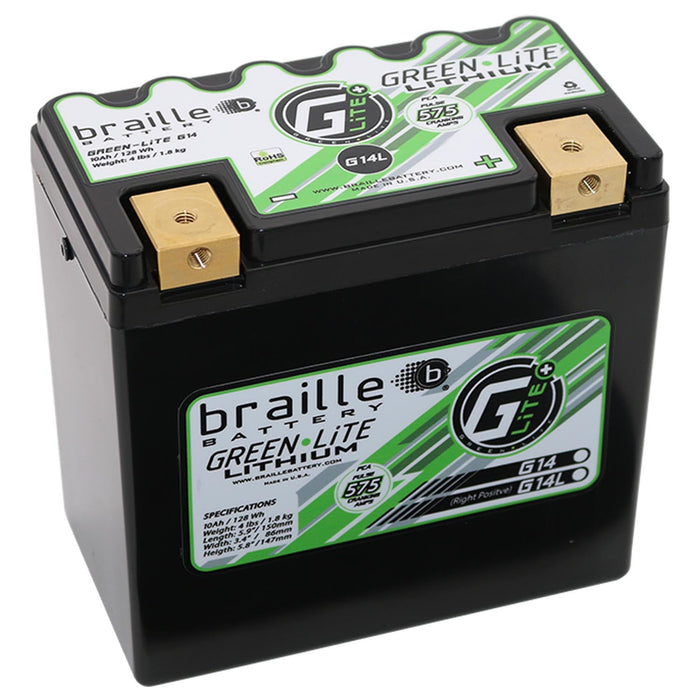 Braille G14L GreenLite Powersports (right +ve) Lithium Battery
Our GreenLite G14L is the lithium upgrade for our very popular B14115 lightweight AGM battery (ETX14) and at only 4 pounds, is just a 1/3rd of the weight and offers more power and capacity, lasting up to 5 times longer than lead! (For a 'Left Positive' version, see our G14).
Quicker starting, with a full volt higher than lead batteries
Less voltage drop during cranking
Improved engine management & data logging performance (stable voltage)
5x more efficient charging than lead, less alternator horsepower draw
Lasts 3-5 times longer, especially under the harshest environments
Much more reliable, with the lowest failure rates on the market
Significant weight savings, often only 1/4 the weight of lead
Don't self-discharge, a disconnected battery holds 13v for over a year
Braille lithium race batteries are used by more professional race teams, car builders and race series globally, than any other lithium battery on the market!!
   Physical Specs
| | | | |
| --- | --- | --- | --- |
| BCI Group | 14L | Width | 3.4" / 88mm |
| | | | |
| --- | --- | --- | --- |
| Weight | 4lbs / 1.8kg | Height | 5.8" / 145mm |
| | | | |
| --- | --- | --- | --- |
| Length | 5.9" / 150mm | Polarity | Right Side Positive |
   Performance Specs
| | | | |
| --- | --- | --- | --- |
| Voltage | 12 | Full Voltage Charge | 13.8 |
| | | | |
| --- | --- | --- | --- |
| Pulse Cranking Amps (PCA) | 575 | Amp hour (Ah) | 10 |
| | | | |
| --- | --- | --- | --- |
| Lithium Amp hour/Lead-Acid Equivalent | 30 | Reserve | 25 min |