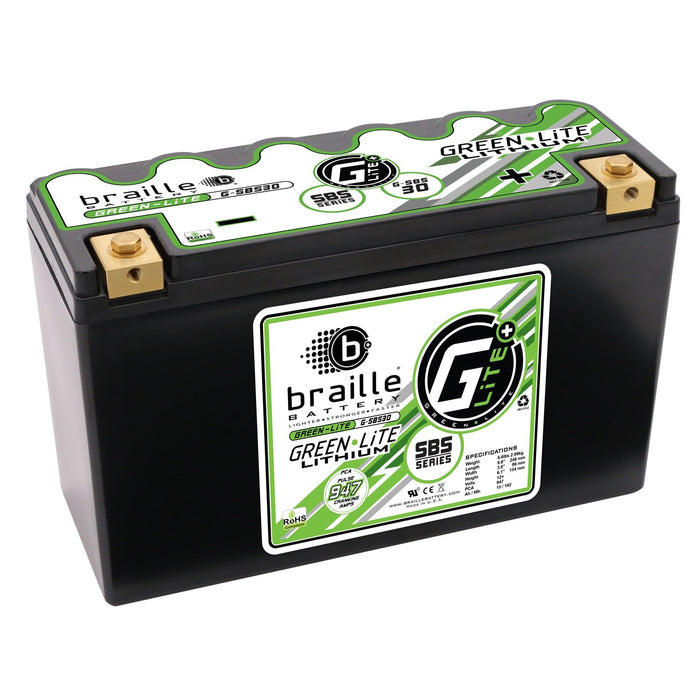 Braille G-SBS30S GreenLite Automotive / Racing (Extra Capacity) Lithium Battery
Our Braille G-SBS30S GreenLite lithium battery is an upgrade for the commonly used Odyssey PC950 and SBS30 AGM batteries but with extra capacity. It has less than 1/3rd the weight, yet more power and capacity, as well as being able to last up to 5 times longer! Direct replacement for Renault Megane RS 275 Trophy; Lotus Evora Sport 410, Elise 250 Special und Cup, Exige Sport 380, 3-Eleven.
You're likely to need our 6A lithium charger to keep your battery in the finest condition, it should be used in vehicles that are not driven regularly to offset parasitic draw in most modern vehicles.
Extra Capacity than the standard G-SBS30
Quicker starting, with a full volt higher than lead batteries
Less voltage drop during cranking
Improved engine management & data logging performance (stable voltage)
5x more efficient charging than lead, less alternator horsepower draw
Lasts 3-5 times longer, especially under the harshest environments
Much more reliable, with the lowest failure rates on the market
Significant weight savings, often only 1/4 the weight of lead
Don't self-discharge, a disconnected battery holds 13v for over a year
Braille lithium race batteries are used by more professional race teams, car builders and race series globally, than any other lithium battery on the market!!
   Physical Specs
| | | | |
| --- | --- | --- | --- |
| BCI Group | 30 | Width | 3.8" / 96mm |
| | | | |
| --- | --- | --- | --- |
| Weight | 6.6lbs / 3kg | Height | 6.1" / 154mm |
| | | | |
| --- | --- | --- | --- |
| Length | 9.8" / 248mm | Polarity | Right Side Positive |
   Performance Specs
| | | | |
| --- | --- | --- | --- |
| Voltage | 12 | Full Voltage Charge | 13.8 |
| | | | |
| --- | --- | --- | --- |
| Pulse Cranking Amps (PCA / CA) | 1197 | Amp hour (Ah) | 20 |
| | | | |
| --- | --- | --- | --- |
| Lithium Amp hour/Lead-Acid Equivalent | 45 | Reserve Capacity (min) | 40 |