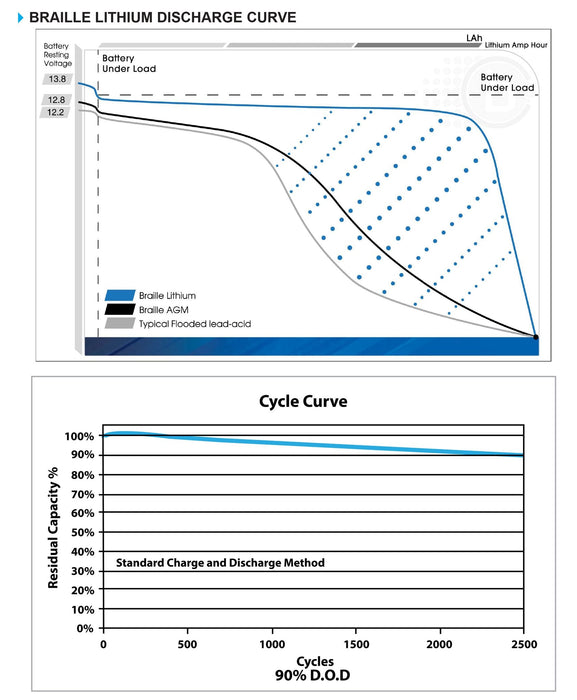 Braille F34 Fleet-Lite Lithium Battery
Our Braille Fleet-Lite F34 lithium Group 34 battery that combines high cranking power and high capacity with amazing 'deep cycle' life in a single battery for commercial, industrial, automotive and marine applications.
This 20.3 pound lithium battery replaces an 40-50 pound lead battery, has more cranking power and usable power, typically last up to 8+ times longer than lead. This 'all in one' solution can be used for starting and power supply applications in a variety of vehicles.
Braille lithium batteries charge FIVE times faster than lead and are more efficient when charged by solar panels and also don't self-discharge.
If there is no draw on the battery, it will still be at 50% state of charge and still at 13 volts after sitting for FIVE years, just give it a top of charge and it's still within spec of new!
Perfect upgrade for cars, trucks, emergency vehicles, boats (also replaces Group 24 size) and other common applications that use a Group 34 battery.
WARRANTY: 5 Years - 3 Years Free Replacement, 4th year 75% and 5th year 50% Pro-rated and Braille Lithium batteries have the lowest failure rate on the market.
   Physical Specs
| | | | |
| --- | --- | --- | --- |
| BCI Group | 34 | Width | 6.9" / 173mm |
| | | | |
| --- | --- | --- | --- |
| Weight | 20.3lbs / 9.2kg | Height | 7.7" / 196mm |
| | | | |
| --- | --- | --- | --- |
| Length | 10.87" / 276mm | Polarity | Left Side Positive |
   Performance Specs
| | | | |
| --- | --- | --- | --- |
| Voltage | 12 | Full Voltage Charge | 13.8 |
| | | | |
| --- | --- | --- | --- |
| Pulse Cranking Amps (PCA) | 1950 | Amp hour (Ah) | 60 |
| | | | |
| --- | --- | --- | --- |
| Reserve Capacity | 145 mins | Life Cycle (10%DOD) | 6000+ |