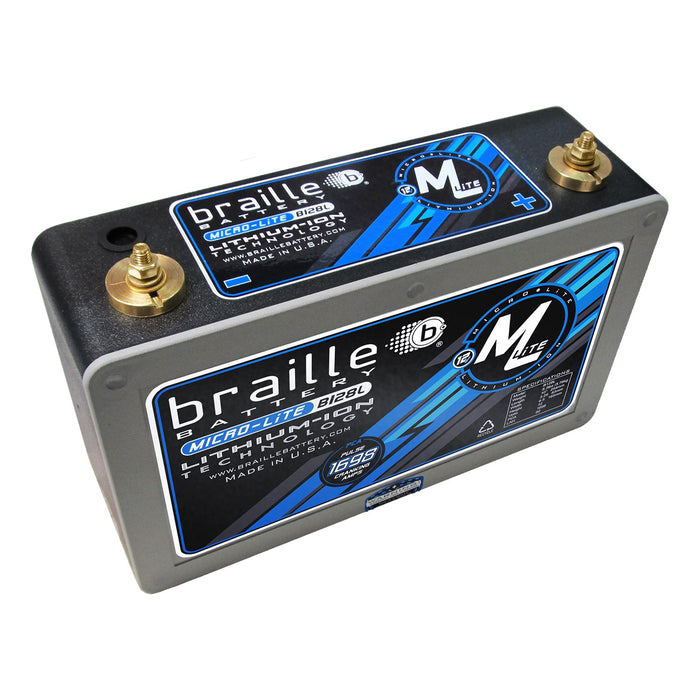 Braille B128L-M6 MicroLite Lithium Battery (Metric M6 Stud)
Braille B128L-M6 MicroLite lithium battery, with M6 threaded male terminal posts. Braille's exclusive technology allows the direct implementation of the high power lithium technology with Alternators and common charging systems.
The B128L-M6 is the most popular model in the MicroLite line and currently used in every car in the DTM (Audi, BMW, Mercedes), SuperGT (Lexus, Nissan, Honda, Subaru) and Australian V8 Supercars (Holden, Ford, Nissan, Mercedes), along with P1, P2 and GT cars in endurance racing in the USA and abroad. New for 2017, the new IMSA DPi cars of Cadillac/Dallara are factory equipped with the B128L lithium battery!!
Braille Lithium delivers a higher, cleaner voltage which improves the performance of every electrical component and has shown to provide:
Quicker starting, with a full volt higher than lead batteries
Less voltage drop during cranking
Improved engine management & data logging performance (stable voltage)
5x more efficient charging than lead, less alternator horsepower draw
Lasts 3-5 times longer, especially under the harshest environments
Much more reliable, with the lowest failure rates on the market
Significant weight savings, up to 1/4 the weight
Don't self-discharge, a disconnected battery holds 13v for over a year
To get all these benefits in one simple step makes it a very cost effective upgrade!!
   Physical Specs:
| | | | |
| --- | --- | --- | --- |
| BCI Group | | Width | 3.15" / 80mm |
| | | | |
| --- | --- | --- | --- |
| Weight | 8.3lbs / 3.7kg | Height | 6.15" / 156mm |
| | | | |
| --- | --- | --- | --- |
| Length | 10.15" / 258mm | Polarity | Right Side Positive |
   Performance Specs:
| | | | |
| --- | --- | --- | --- |
| Voltage | 12 | Full Voltage Charge | 14.4 |
| | | | |
| --- | --- | --- | --- |
| Pulse Cranking Amps (PCA) | 1698 | Amp hour (Ah) | 22.5 |
| | | | |
| --- | --- | --- | --- |
| Lithium Amp Hour/Lead-Acid Equivalent | 68 | Life Cycle @ 10% DOD | 5000 |