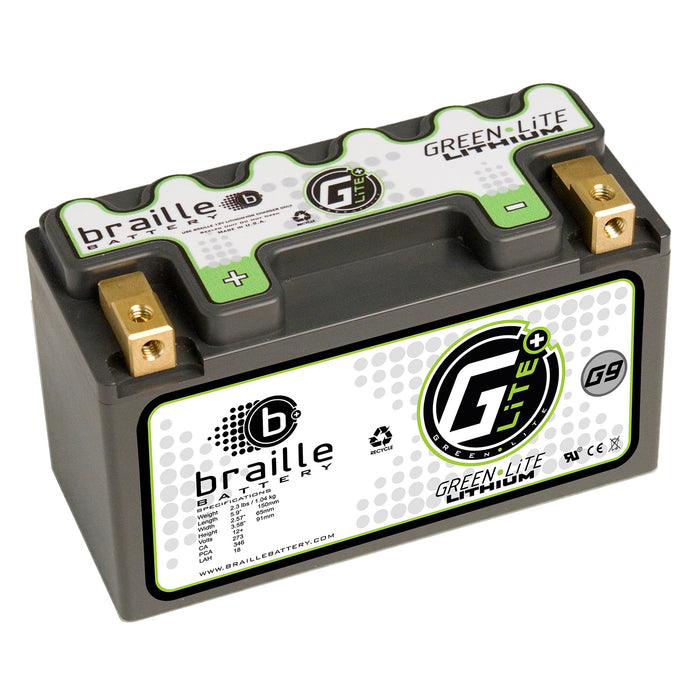 Braille G9L GreenLite Lithium Battery
Braille G9L GreenLite lithium battery, 100% compatible with ALL standard charging systems and suitable for use in race cars with a 'total loss' (no alternator) setup. Without parasitic draw from onboard computers, radios alarms etc, our batteries can sit for a year and still hold 90% state of charge, if they remain connected, use one of our chargers to keep it topped up and in top condition!
Braille Lithium batteries have a failure rate of just 0.5%, the lowest rate in the industry and those are caused by abuse and improper maintenance. Braille is the only American Made 'Race Grade' lithium battery on the market, used by more OEM factory & purpose built race cars, professional race series and also spec lithium battery in several cases around the world!
You can have the most reliable lithium battery on the market, with over a decade of actual use on race & street cars for any vehicle you have!!
There is a difference between the other 'Consumer Grade' lithium batteries with a bunch of 'Bells and Whistles' that don't match up to the performance and reliability of Braille 'Race Grade' batteries - our pedigree, racing history and customers speaks for itself!!
Call us at Shop Braille directly with any questions you may have as to which battery is right for your vehicle based on goals, usage, budget, etc!
Braille Lithium delivers a higher, cleaner voltage which improves the performance of every electrical component and has shown to provide:
Quicker starting, with a full volt higher than lead batteries
Less voltage drop during cranking
Improved engine management & data logging performance (stable voltage)
5x more efficient charging than lead, less alternator horsepower draw
Lasts 3-5 times longer, especially under the harshest environments
Much more reliable, with the lowest failure rates on the market
Significant weight savings, often only 1/4 the weight of lead
Don't self-discharge, a disconnected battery holds 13v for over a year
   Physical Specs
| | | | |
| --- | --- | --- | --- |
| BCI Group | TX-9 | Width | 2.57" / 65mm |
| | | | |
| --- | --- | --- | --- |
| Weight | 2.3lbs / 1.04kg | Height | 3.58" / 90mm |
| | | | |
| --- | --- | --- | --- |
| Length | 5.9" / 149mm | Polarity | Right Side Positive |
   Performance Specs
| | | | |
| --- | --- | --- | --- |
| Voltage | 12 | Full Voltage Charge | 13.8 |
| | | | |
| --- | --- | --- | --- |
| Pulse Cranking Amps (PCA) | 346 | Amp hour (Ah) | 5 |
| | | | |
| --- | --- | --- | --- |
| Lithium Amp Hour/Lead-Acid Equivalent | 15 | | |