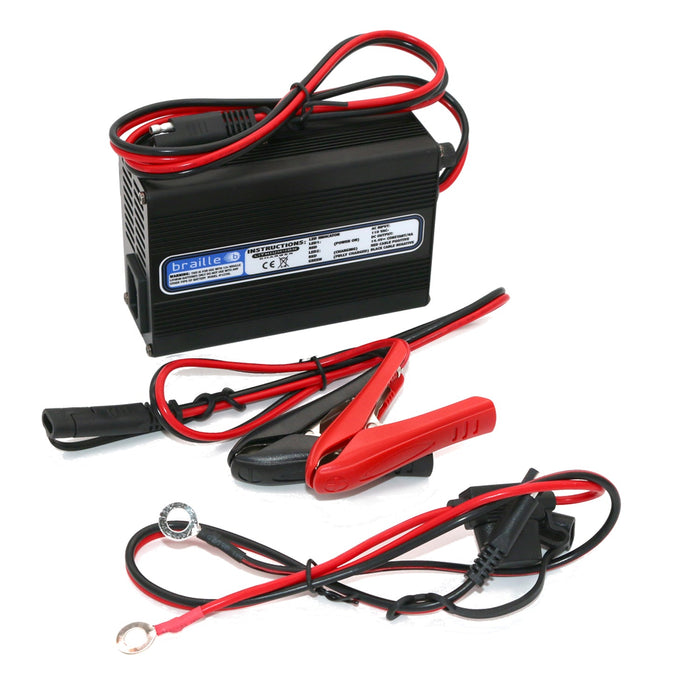 Braille 1236L Lithium 12v 6A Battery Charger / Maintainer
Braille 12v 6A lithium charger/maintainer charges at a reasonably quick 6 Amps and is designed to maintain and keep Braille lithium batteries fully charged when not in use or sitting for long periods of time.
In the case that a Braille lithium battery is every fully discharged (10 volts is considered 0% state of charge on a 12v lithium battery), this charger does have a 'pre-charge/revival mode' that will do a slow 'pulse charge' as long as the battery has at least 2 volts (to know that it is connected to a battery) and will slowly bring it back up to 10 volts before charging at the standard 6 Amp rate back up to full.
This updated charger now comes with an SAE quick disconnect end, along with a ring terminal harness and standard battery clamps for more charging solutions in a variety of vehicles, bikes, etc. (Power cord included, but not pictured)
1236L Charger Manual (Click to Download)
DC Output
DC output voltage, nominal: 14.2v
DC output current, maximum: 6A
Replacement output fuse: F10AL250V or T10AL250V (5x20 mm)
Automatic multi-rate charging CC/CV profile with Pre-charge @1.8A (between 2v-10v) 98% efficiency.
AC Input
AC input voltage range: 90-243VAC
AC input voltage-nominal: 110VAC/220VAC
AC input frequency: 50-60Hz
Mechanical
Dimensions: 4.45" x 2.36" x 3.39" (113 x 60 x 86mm)
Net weight: 2.0lbs (0.907kg)
Operating Temperature: 14F-113F (-10C-45C)
Storage Temperature: -40F-158F (-40C-70C)
Fan Operating Temperature: 104F (40c)
AC input: US plug, Europlug, EIC320/C13 connector, 1.5 meter
DC output: Colored Alligator clips & 1.5m ring terminal harness (SAE quick connectors)
Regulatory
Safety standard: CE listed, NRTL, UL compliant
Safety-Europe: EN60335-2-29:2002

Packing List
1 x charger; 1x user manual; 2 x AC power cord (110VAC, 220VAC)